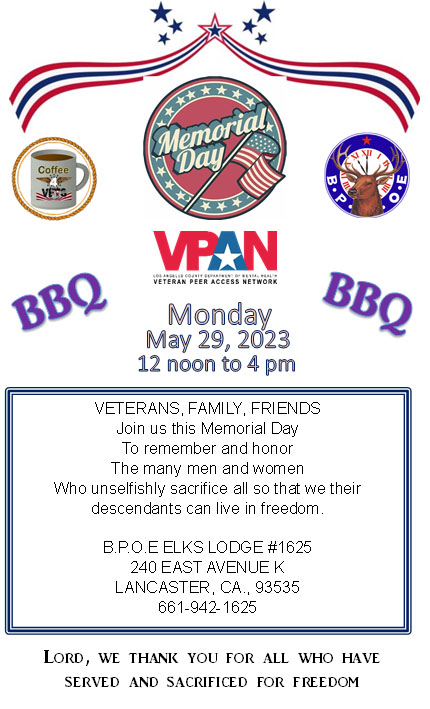 Coffee4VETS, Inc is inviting our veteran's community to our 2023 BBQ on Memorial Day at BPOE Elks Lodge 1625, 204 E. Ave K, Lancaster from 12n – 4pm. The Boggie Woggie Mommas will be performing and our Young Martines will be posting colors. Bring the family and join in the camaraderie and a great meal together. Look forward to seeing you. Please be safe in your travels.
This day we remember the fallen who paved the way for our future.
The Shopping for our Antelope Valley Veterans BBQ is completed. Yea!
It indeed was a rewarding adventuring with our VPAN Team who's our sponsor of our 2023. Together we "ROCK" the stores. Yes, stores to get all the ingredients for a successful BBQ for our AV veterans.
Many thanks to our Partners Jimmie, James and Veronica at VPAN. Thank you Chef Tony and our President, Juan Blanco.
Thank you Lt. Comm Walter Sapp for hosting us at B.O.P.E. Elks Lodge 1625, 240 E. Ave K, Lancaster. Together, We are ready.
Click on the images to view gallery.