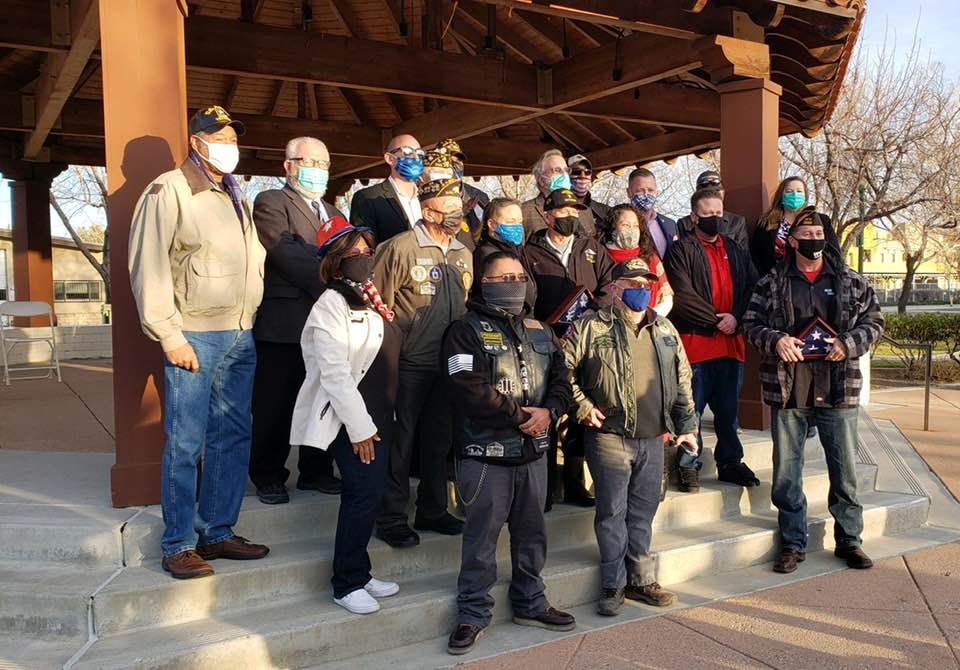 City of Palmdale on Tuesday thank the Palmdale Auto Dealers Association for its key sponsorship of the Veterans Week display of the Field of Healing and Honor, with its 2,020 American Flags on display Nov.1-11, with closing ceremonies on Veterans Day. Flags honored veterans of military service, first responders, and healthcare heroes. Five veterans service organizations responded as the key volunteer committee with others joining in during the days and nights of the event.
Event supported to hilt by Palmdale City Council was initiated by City Manager J.J. Murphy, US Air Force Maj. Ret.
On Tuesday, Mayor Steve Hofbauer and Council Members Laura Bettencourt, Austin Bishop, and Richard Loa awarded a distribution of more than $8,000 each to the key volunteer organizations –
Coffee4Vets, Vets4veterans, Point Man Antelope Valley, American Legion Post 348 and Veterans of Foreign Wars Post 3000.
Coffee4Vets Board Members accepting, Tony Tortolano and Mayra Dee. Point Man, President Michael Bertell, PMAV Volunteer Coordinator Stacia Nemeth; Vets4veterans President Jack Woolbert and VP John Parsamyan; American Legion Richard Hayes and Carl Hernandez; VFW Post 3000 representatives Duane Svoboda and Mike Keysers.
"It was a great event that helped bring healing in a very difficult time for all Americans," Murphy said.